Repertoire + CD
Live: Ein klingender Adventsgruß an alle unsere Freunde!
Die nächsten zwei Bilder sind YouTube-Links!
Unsere erste CD: "A Move Of God"
Anlässlich unseres Gospelchortreffen Aix-la-Gospelle 2007 mit drei Chören und Workshopteil zum Mitsingen war nicht nur für das Publikum ein voller Erfolg, sondern es gelang uns auch eine feine Live-Aufnahme voller Atmosphäre und Energie!
Also haben wir nicht lange gezögert und mit der GEMA die Rechte abgeklärt, die Kosten kalkuliert, und selbst gestaunt: Zu unserer großen Überraschung können wir die CD für 5EUR (7EUR per Post) abgeben!
Auf der CD sind folgende Lieder zu hören: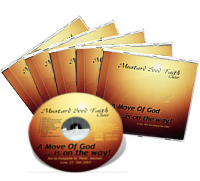 Praise Him (Donnie Harper), Einzug
Because Of Who You Are (Martha Munizzi)
Every Step Of The Way (Clarence Eggleton)
Holy, Your Name Is Holy (Bryant Jones), mit Gemeinde
A Move Of God Is On The Way (Norman Hutchins)
Praise Be To God (Clarence Eggleton)
Now Behold The Lamb (Kirk Franklin)
Can't Give Up Now (Mary Mary)
Bless Me (Donald Lawrence, Andraé Crouch)
Awesome God (Rich Mullins), als gemeinsamer Abschluss mit Gemeinde, Niko Schlenker am Piano, und mit den Gastchören Joy of Gospel und Crescendo
© 2008 Mustard Seed Faith e.V.
Aktives & passives Repertoire
Ain't No Mountain High Enough (Ashford and Simpson)
Always (Kirk Franklin)
Be Still My Soul (Arr.: Selah)
Bless Me (Donald Lawrence, Andraé Crouch)
Blessed Be The Name (Clarence Eggleton)
Can't Give Up Now (Mary Mary)
Christ The Solid Rock (Walther Hawkins)
Clap Your Hands (Clarence Eggleton)
Der Herr segne Euch (Friedemann Lutz)
Don't Cry (Kirk Franklin)
Every Praise (Hezekiah Walker)
Every Step Of The Way (Clarence Eggleton)
Faithful Is Our God (Jules Bartholomew, Hezekiah Walker)
Give Glory To God (Clarence Eggleton)
Glorify Your Name (Kevin Singleton / Israel Houghton)
God Is (The Strength of My Heart) (Calvin B. Rhone)
God Kept Me (I Almost Let Go) (Kurt Carr)
He Will Take You All The Way (Ricky Grundy)
Here I Am To Worship (Tim Hughes)
His Eye Is On The Sparrow
Holy, Holy, Holy, Lord, God Almighty (Trad., The Martins)
Holy Spirit, Move (Joe Pace)
Holy, Your Name Is Holy (Bryant Jones)
I Almost Let Go (God Kept Me) (Kurt Carr)
If You Come To Him (Edwin Hawkins)
I Love the Lord (Richard Smallwood)
I'm Gonna Ride (Trad.)
I'm Gonna Wait On The Lord (Trad.)
In the Sanctuary (Kurt Carr)
I Need You To Survive (Hezekiah Walker)
In The Sanctuary (Kurt Carr)
It Ain't Over (Maurette Brown Clark)
Jesus Is Right Here, Now (Anna Weister Andersson)
Jesus Promised (Tim Carpenter)
Joyful, Joyful (Roger Emerson, Mervyn Warren)
Just a Little Faith (Edwin Hawkins)
Lord I Know I've Been Changed (trad.)
Medley (3x trad.)
Mustard Seed Faith (Steven Ford)
My Desire (Kirk Franklin)
My Life, My Love, My All (Kirk Franklin)
My Shepherd (Psalm 23) (Kurt Carr)
Now I'm On My Way (Freddie Fuller)
One Word (Kurt Carr)
Order My Steps (Glen Burleigh)
Praise Be To God (Clarence Eggleton)
Praise Him (Donnie Harper)
Promise for Good (Wolfgang Pfeifer/Johan Leenders)
Silent Night (Kirk Franklin)
Silver And Gold (Kirk Franklin)
Soon And Very Soon (Andrae Crouch)
Stranger (Donald Lawrence)
Take Me To The Water (Clarence Eggleton)
The Lord Just Keeps On Blessing Me (Lisa Nelson)
This Is The Day That The Lord Has Made (Arvis Strickland Jones )
This Is Your house (Randy Phillips)
Till We Meet Again (Kirk Franklin)
Total Praise (Richard Smallwood)
Unchangeable (Cris Lass/E. Arnaut/P. Mueller)
We Are The World (Michael Jackson, Lionel Richie)
We Fall Down (Donnie McClurkin)
Welcome Into This Place (Orlando Juarez)
We Pray (Joakim Arenius)
We Shall Overcome (trad.)
Who Is Like The Lord (Israel Houghton)
Why We Sing (Kirk Franklin)
Without Faith / I live by faith (Steven Ford)
You Are My Lord (Michael D. Green)
You are good (Israel Houghton)
You're all I need (Jason Clayborn)